Advertiser Disclosure
We are an independent, advertising-supported comparison service. Our goal is to help you make smarter financial decisions by providing you with interactive tools and financial calculators, publishing original and objective content, by enabling you to conduct research and compare information for free – so that you can make financial decisions with confidence. The offers that appear on this site are from companies from which TheSimpleDollar.com receives compensation. This compensation may impact how and where products appear on this site including, for example, the order in which they appear. The Simple Dollar does not include all card/financial services companies or all card/financial services offers available in the marketplace. The Simple Dollar has partnerships with issuers including, but not limited to, Capital One, Chase & Discover. View our full advertiser disclosure to learn more.
Best Visa Credit Cards of 2021
There are a lot of really great Visa credit cards out there. Banks, airlines, and major retailers all regularly hand out Visa cards to help you spend money and earn specific rewards. For this "best Visa" roundup, I'm going to focus on Visa cards distributed by major banks, and highlight eight different cards that are great for earning cash back, earning travel rewards, transferring a balance, and more.
I selected these cards after looking at a lot of Visas and comparing rewards, APRs, and other benefits. These aren't the only great Visa cards — I don't have enough space to list them all — but they're all solid choices if you're looking to start a new line of credit.
Best for Travel Rewards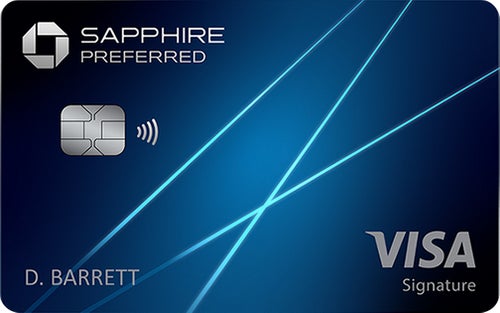 Learn more
at bankrate.com's secure website
Chase Sapphire Preferred® Card is a favorite at The Simple Dollar — in fact, it has named the card its all-time favorite rewards card. And those rewards are juicy: 5X points on travel purchased through Chase Ultimate Rewards®, 3X points on dining and 2X points on all other travel purchases, plus more — plus 60,000 bonus points if you spend $4,000 within the first three months of opening your account.
Once you earn those points, you'll want to be sure to redeem them through the Chase Ultimate Rewards program. If you use Chase Ultimate Rewards®, your points are worth 25% more — those 60,000 bonus points, for example, are now worth $750 toward travel expenses. You can also transfer those points one-to-one with other big-name programs, like Southwest Airlines, United Airlines, and Marriott.
The only downside to the Chase Sapphire Preferred® Card is if you don't travel (or dine out) a lot to begin with — while those two categories are broad, they don't jive with everyone's lifestyle, and they are the only way to get double points. It's a travel card that rewards you the more you travel.
If you prefer rewards in the form of cash as opposed to points, there are two Visa cards you'll want to look at. First up is the Chase Freedom®. It gets you 5% cash back (!) on up to $1,500 in purchases within specific categories that change every quarter, and 1% cash back on everything else. Plus, there's the chance to earn an extra $200 after spending $500 in the first three months of opening your account — and no, that $500 doesn't have to be confined to a specific spending category.
For example, if you max out your Chase Freedom® rewards and spend $1,500 on that quarter's chosen categories, you'll get 5% back on that $1,500, or $75. Maybe you spend an additional $2,000 that quarter and get 1% cash back on every purchase, or $20, bringing your total cash back rewards to $95. (Check the Chase Freedom® 2019 Cash Back Calendar to see upcoming cash back categories. They're all really broad, like "restaurants" or "gas.")
Looking to level up your rewards even more?
Consider bundling two cards together. A great combo is the Chase Freedom® and the Chase Sapphire Preferred® Card. Even better, you can pool your points and redeem them through the Chase Ultimate Rewards® program.
There's the USAA® Preferred Cash Rewards Visa Signature® Card (currently unavailable through our site), it's a great card — but is only available to people with a military affiliation (whether you're in the military, joining the military, a military veteran, or have a parent or spouse in the military), so it won't be applicable to everyone.
There's also the Wells Fargo Cash Wise Visa® Credit Card. Its variable APR is 13.74%-25.74% (variable), and you'll also get 1.5% cash back on every purchase (plus 1.8% cash back on purchases made via Android Pay™ or Apple Pay® during the first 12 months your account is open).
Full disclosure: If you're looking for a Visa with low APR, the best place to start might be your local bank. I have a Commerce Bank Special Connections® Visa® with Rewards card that comes with a 10.49% – 20.49% variable APR and cash back rewards, but that's because I used to live in Illinois and had a Commerce Bank checking account. (I actually called Commerce Bank to confirm that anyone could apply for this card — not just people with Commerce Bank accounts — and the company said it was available to everyone.) If you've got a small, local bank nearby, it's worth looking into its credit card offerings.
Best to transfer a balance
If you're looking to transfer a balance and pay it off interest-free, Chase Slate® has what you need. You'll get a 15-month 0% intro APR on both balance transfers and new purchases, giving you over a year to pay off an old balance interest-free (as well as any other purchases you make during that time).
Three of the other Chase rewards cards I've mentioned already also offer this 15-month 0% intro APR, but there's one big reason why Chase Slate® stands out for balance transfers: You don't pay balance transfer fees on anything transferred within the first 60 days of opening your account (after that, 5% with a minimum of $5).
Here's how your Chase Slate® savings might work: If you're transferring a $3,000 balance to one of the Chase cards that include a 5% balance transfer fee, you'll pay $150 to make that transfer. If you're transferring to Chase Slate® within the first 60 days, that transfer will be $0. It's a great deal, and one of the only cards out there — Visa or otherwise — that gives you a fee-free period at all.
Best for rebuilding your credit
If you want to rebuild your credit, consider the U.S. Bank Secured Visa® Card. This secured Visa card requires a deposit to open up a line of credit and is designed to help you establish or rebuild your credit. The idea behind a secured card is this: Once you've proven you can manage credit responsibly and pay off your balances, you'll upgrade to an unsecured card and get your deposit back. (The U.S. Bank Secured Visa® Card lets you make a deposit of $300 to $5,000. Your credit line is equivalent to the deposit you make.)
On the other hand, the U.S. Bank Secured Visa® Card lets you earn interest on your deposit. You aren't going to earn a lot of interest on a $300 deposit, but if you're thinking about depositing a few thousand dollars, it's worth keeping in mind. (Also, I'd advise strongly against putting your entire savings or emergency fund into a secured credit card just to get a higher line of credit. You want to be able to pay off your balance no matter what happens — otherwise you could lose your deposit, not to mention all of that good credit you're building up.)
The perks of using a Visa
All of my Visa credit card recommendations are based on the perks that their issuers dictate — the Chase Sapphire Preferred® Card's great rewards, for example, are decided by Chase, not by Visa. But Visa does bake in some extras as well.
In the US, there are really only two types of Visa cards: Platinum and Signature. The Platinum card is pretty basic, featuring customer service, emergency card replacement, and rental car collision damage coverage. Visa Signature cards are more robust, including everything from roadside dispatch and a 24/7 concierge to deals on sporting events, emergency travel assistance and extended warranty coverage.
There's also a new, elite Visa Infinite tier — so new that the US doesn't even have a website for it yet. Only two cards are currently available at the Infinite tier (the Ritz-Carlton Rewards Credit Card and the Crystal Visa Infinite Credit Card), and it's basically a souped-up version of the Signature with even more luxe perks, like $100 off round-trip domestic flights, VIP "welcome service," and a portfolio of high-end hotels.
Some cards have "Signature" included in right in their name, but often the only way to see what tier a card is available at (and that you quality for) is to apply.
Too long, didn't read?
Visa has way more credit card options than I can highlight in a single post, but these eight cards all offer excellent benefits or rewards. If you're looking for a Visa credit card to help you transfer a balance, earn cash back or travel rewards, or rebuild your credit, start here.
Editorial Note: Compensation does not influence our recommendations. However, we may earn a commission on sales from the companies featured in this post. To view our disclosures, click here. Opinions expressed here are the author's alone, and have not been reviewed, approved or otherwise endorsed by our advertisers. Reasonable efforts are made to present accurate info, however all information is presented without warranty. Consult our advertiser's page for terms & conditions.