Advertiser Disclosure
We are an independent, advertising-supported comparison service. Our goal is to help you make smarter financial decisions by providing you with interactive tools and financial calculators, publishing original and objective content, by enabling you to conduct research and compare information for free – so that you can make financial decisions with confidence. The offers that appear on this site are from companies from which TheSimpleDollar.com receives compensation. This compensation may impact how and where products appear on this site including, for example, the order in which they appear. The Simple Dollar does not include all card/financial services companies or all card/financial services offers available in the marketplace. The Simple Dollar has partnerships with issuers including, but not limited to, Capital One, Chase & Discover. View our full advertiser disclosure to learn more.
Indigo® Platinum Mastercard® Review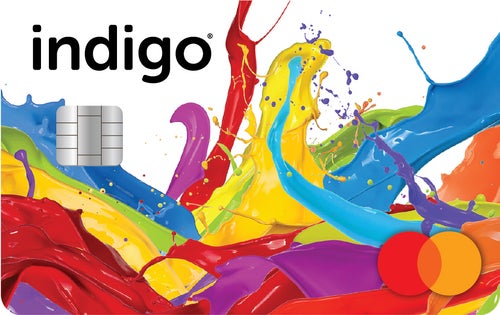 Apply now
at Genesis FS Card Services's secure website
The Indigo® Platinum Mastercard® is a potential solution if you have no credit history or your credit score is low. This bare-bones card is ideal for users looking for a straightforward way to establish a healthier financial future and build credit.
What we like about the Indigo® Platinum Mastercard®
For anyone looking for basic, functional benefits to bounce back from a series of financial missteps, the Indigo® Platinum Mastercard® may be the right choice. Here are a few of the reasons why it could help you build credit:
Pre-qualification before a hard inquiry: The Indigo® Platinum Mastercard® allows applicants to pre-qualify for this card, which means you can get a better idea of whether or not you'll be approved before it impacts your credit score. As you might already know, a formal credit card application involves a hard pull on your credit, which can lower your score. So, if you get denied approval during a standard credit card application, it could temporarily lower your score and make it even harder to get approved elsewhere.
Former bankruptcy is okay: If your credit history isn't ideal, you can still get approved for this card. A poor credit score due to bankruptcy won't stop you from being approved.
Reports to all credit bureaus: If you have poor credit, you may face rejection from lenders who view you as a risky borrower when you try to apply for credit cards or auto loans. That's where a card like the Indigo® Platinum Mastercard® comes in. This handy card can help you build your credit and reports to all main credit bureaus, so you can work on building a strong financial foundation.
Things to consider
The Indigo® Platinum Mastercard® isn't for everyone. For credit users accustomed to rewards and perks, this card has some drawbacks to consider:
Low credit limit: If you're planning a big purchase and want to put it on a credit card, this isn't the right option. The starting credit limit is around $300.
Annual fees depend on credit score: Although cardholders with better credit health may have no annual fees, it depends on creditworthiness. You could pay

$0-$99

in annual fees, which means your credit limit is lowered.
Penalty APR: If you are late on payments, you risk a penalty APR slapped onto your account.
Indigo® Platinum Mastercard® credit building details
To use this credit card for credit building, you can charge amounts up to $300, minus fees. Why is this the case? If your annual fee is $59, your credit limit will be lowered accordingly to $241. To get the most benefit out of the credit building feature, it's important to avoid keeping a high balance on your account month to month. If you do get close to the maximum limit, you'll raise your overall credit utilization, a factor that may negatively impact your score.
Indigo® Platinum Mastercard® fees
Depending on your creditworthiness, you are responsible for an annual fee ranging between $0 and $99. You can also expect a 1% foreign transaction fee, so keep that in mind if you're traveling abroad.
A APR of 24.90% means if you carry a balance month to month, you're paying extremely high interest charges. As you can imagine, you can accidentally accrue a balance near your credit limit or even go over it if you're not careful.
Other fees to watch out for include late payment fees up to $40, returned payment fees of up to $40 and over-limit fees of up to $40.
How does it compare to other credit building cards?
While the Indigo® Platinum Mastercard® is an option if you don't want to go the secured credit card route, it's only a smart choice for those who can pay off the total balance each month. Otherwise, interest charges quickly tack on more debt.
For cardholders who aren't opposed to putting down their own money as collateral, secured credit cards are a practical alternative for building credit. The Citi® Secured Mastercard®, for example, requires only a minimum of $200 to open an account. Another secured card option for rebuilding credit is the Capital One Platinum Secured Credit Card. If you put up the minimum required security deposit of $49, you'll receive a beginning credit line of $200.
Card
Ongoing Purchase APR
Annual Fee
Intro Bonus
Credit Needed
Key features
Indigo® Platinum Mastercard®

24.90%

APR

$0-$99

None
Fair
60-second decision by lender; 24/7 mobile account access; Pre-qualification with no effect on credit score
Citi® Secured Mastercard®
22.49%
None
None
No Credit History
No annual fees to worry about adding onto any debt; Helps build credit by reporting to all three major credit bureaus; Flexible payment due dates allow you to choose when you pay your bill
Capital One Platinum Secured Credit Card
26.99% Variable
None
None
No Credit History
Cardholder can choose own monthly due date; Only need to put down $49 to get $200 credit line (based on creditworthiness)
Too long, didn't read?
The Indigo® Platinum Mastercard® is ideal for card users who don't want or need to spend large amounts while trying to rebuild or establish their credit. Although this card is stark compared to other options when it comes to credit limits and rewards, the Indigo® Platinum Mastercard® may be helpful for anyone who doesn't want to put down a deposit for a secured credit card.
Editorial Note: Compensation does not influence our recommendations. However, we may earn a commission on sales from the companies featured in this post. To view our disclosures, click here. Opinions expressed here are the author's alone, and have not been reviewed, approved or otherwise endorsed by our advertisers. Reasonable efforts are made to present accurate info, however all information is presented without warranty. Consult our advertiser's page for terms & conditions.