Advertiser Disclosure
We are an independent, advertising-supported comparison service. Our goal is to help you make smarter financial decisions by providing you with interactive tools and financial calculators, publishing original and objective content, by enabling you to conduct research and compare information for free – so that you can make financial decisions with confidence. The offers that appear on this site are from companies from which TheSimpleDollar.com receives compensation. This compensation may impact how and where products appear on this site including, for example, the order in which they appear. The Simple Dollar does not include all card/financial services companies or all card/financial services offers available in the marketplace. The Simple Dollar has partnerships with issuers including, but not limited to, Capital One, Chase & Discover. View our full advertiser disclosure to learn more.
Total Visa® Unsecured Credit Card Review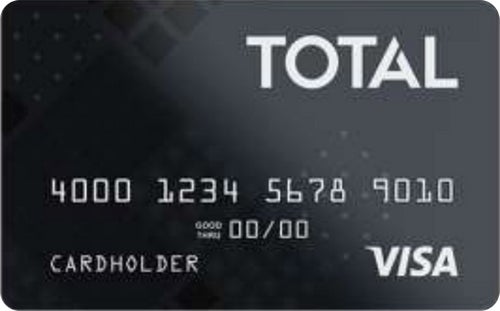 Apply now
at Total Card's secure website
The Total Visa® Unsecured Credit Card offers those with poor credit a chance at redemption. Whether it was accidental delinquency on a store credit card or medical debt, the result is the same — poor credit.
In most cases, poor credit means only qualifying for a secured credit card, which requires a refundable deposit to act as the credit line. The Total Visa® Unsecured Credit Card gives cardholders an alternative — manageable monthly payments and a straightforward path to better credit. To make the most of this card, however, it's essential to understand its limitations.
Keep in mind that rebuilding credit depends on factors like making on-time payments, keeping balance below credit limit and paying at least the minimum monthly payment.
What we like about the Total Visa® Unsecured Credit Card
Reports to all three credit bureaus: As cardholders pay their balance off each month, on-time payments get sent to all three credit reporting agencies instead of one or two. The result? All three bureaus will take note of your credit habits as you practice financial discipline.
No deposit: Since this is an unsecured card, you don't have to put your own money down as collateral for your credit line.
Payment grace period: If you have trouble sticking to due dates, this card offers a grace period for another chance to pay your balance, unlike many other credit card companies.
Potential for credit limit increase: After 12 billing cycles and responsible financial habits, you may be eligible for a credit limit increase. In turn, you'll lower your overall credit utilization, aka the amount of credit you use compared to the maximum credit limit. Credit utilization is an important factor that goes into your credit because if you use less of your available credit, you're less risky in the eyes of lenders.
Things to consider
High fee structure: Cardholders can expect to pay a fee to process their account opening, plus an annual fee. In addition, you'll be subjected to monthly service fees after your first year.
Limited usage: You can't use this card in other countries, including foreign websites. You also can't use this card anywhere that puts a large hold on your account until the transaction is processed, like some gas stations. For instance, your card might get declined if an establishment places a holding fee on your account when you're near your credit limit.
High APR: With a steep APR, it is in your best interest to pay off your entire balance on this card each month. If you tend to carry a balance, your debt can snowball with this high APR.
Total Visa® Unsecured credit-building details
To get the most out of the card's features, you'll need to make all of your payments on time. Responsible payment habits will help you avoid late payment fees and the steep interest rate. You'll also want to avoid adding any authorized users or taking out cash advances because they come with fees that quickly eat into your credit limit.
Your best bet is to use the card for small purchases that you can pay off quickly until your credit goes up. As your credit recovers, you're probably better off with another card that offers perks like cash back and fewer fees.
Total Visa® Unsecured Credit Card fees
The Total Visa® Unsecured Credit Card charges cardholders a series of fees, including an account program fee for opening the account and a first-year annual fee. After your first year, your yearly fee drops. However, you'll still have a monthly service fee.
How does it compare to other credit-building cards?
If you don't want to put down a deposit for a secured card, the Total Visa® Unsecured Credit Card can be ideal as long as you keep careful note of all its fees. However, there are secured options that offer better terms and perks when compared to the Total Visa® Unsecured Credit Card.
For example, the Discover it® Secured boasts the chance to earn 2% cash back in gas stations and restaurant purchases, up to $1,000 each quarter, and 1% cash back on everything else. You can convert to a regular, unsecured credit card after eight months of responsible payment behavior, if deemed eligible by Discover. The Capital One Platinum Secured Credit Card is another secured option that only requires a $49 minimum deposit to get an initial $200 line of credit, depending on your creditworthiness.
| Card | Annual Fee | Intro Bonus | Credit Needed | Key features |
| --- | --- | --- | --- | --- |
| Total Visa® Unsecured Credit Card | See Terms | See Rates & Fees | Fair to Poor | Credit reporting to all three credit bureaus; No deposit required; Credit limit increase possible after evidence of good payment habits |
| Discover it® Secured | See Terms | Unlimited cash back match at the end of your first year | New/Rebuilding | No annual fee; 2% cash back in gas stations and restaurant purchases, up to $1,000 each quarter, and 1% cash back on everything else; Unlimited cash back match at the end of the first year. |
| Capital One Platinum Secured Credit Card | None | None | Limited, Bad | Only $49 required for initial $200 credit line. |
Too long, didn't read?
The Total Visa® Unsecured Credit Card may come with no rewards and several fees, but you'll be able to see your credit climb over time. If you're against putting down a deposit for a credit card, the Total Visa® Unsecured Credit Card might be worth the fees to raise your credit. Considering all of the card's drawbacks, it should only be used to raise your credit by making small purchases and repaying your balance in full each month. As your credit rebounds, it's smart to eventually look elsewhere for a card with a less punitive fee structure.
Please Note: Information about the Discover it® Secured has been collected independently by TheSimpleDollar.com. The issuer did not provide the details, nor is it responsible for their accuracy.
Editorial Note: Compensation does not influence our recommendations. However, we may earn a commission on sales from the companies featured in this post. To view our disclosures, click here. Opinions expressed here are the author's alone, and have not been reviewed, approved or otherwise endorsed by our advertisers. Reasonable efforts are made to present accurate info, however all information is presented without warranty. Consult our advertiser's page for terms & conditions.
Image Credit: Westend61/Gett Images