Advertiser Disclosure
We are an independent, advertising-supported comparison service. Our goal is to help you make smarter financial decisions by providing you with interactive tools and financial calculators, publishing original and objective content, by enabling you to conduct research and compare information for free – so that you can make financial decisions with confidence. The offers that appear on this site are from companies from which TheSimpleDollar.com receives compensation. This compensation may impact how and where products appear on this site including, for example, the order in which they appear. The Simple Dollar does not include all card/financial services companies or all card/financial services offers available in the marketplace. The Simple Dollar has partnerships with issuers including, but not limited to, Capital One, Chase & Discover. View our full advertiser disclosure to learn more.
Saving for College? These Rewards Credit Cards Can Help
Whether you're already a parent or thinking of having children, the rising cost of a college education is cause for concern. Even a public, four-year university now costs $10,230 per year on average, and that price tag doesn't include room and board. It's hard to imagine how much prices might increase over the next decade or more, let alone how you could possibly save up the cash to cover tuition and fees, books and supplies, and living expenses — while also saving for your own retirement.
But college savings isn't an "all or nothing" game. It's better to have something saved than nothing at all, even if your college savings are only enough to pay for a single semester or a few years of school. Since anything you can save now is money your kids won't have to borrow, every little bit will help.
That's why many families open a 529 college savings plan. These plans allow families to squirrel away money every year with the goal of paying for college in the future. The best part is, 529 plans allow your money to grow tax-free and the money won't be taxed when it's taken out to cover qualifying college expenses.
Although contributions to a 529 account are not deductible, some states offer special tax benefits for those who use these plans. In the state of Indiana, for example, consumers get a 20% tax credit on the first $5,000 they contribute to a 529 plan each year.
Saving for College… by Using a Credit Card
If you wish you could save more for college than you're saving now, there are plenty of ways to boost your contributions. For example, you could cut your expenses to save more, funnel your children's birthday and holiday money into their 529 accounts, or set up automatic contributions so you never forget (and aren't tempted to spend the money first).
In addition to those options, some credit cards make saving for college a seamless experience. If you're eager to save more money for college without lifting a finger, consider these options.
Upromise World Mastercard®
If you're looking for a painless way to save more money for college, it would be difficult to find a better deal than the Upromise World Mastercard®. This card offers 1.25% cash back for each dollar you spend on any type of purchase, and you have the option to round up your purchases to the nearest dollar so you save even more. When you link your account with a qualifying 529 plan, you also get a 15% bonus on your total cash back — including cash saved through the Upromise Round Up program.
The Upromise World Mastercard® doesn't charge an annual fee or foreign transaction fees, and you get free access to your FICO score as a cardholder perk. Applying for the card also qualifies you for a free ShopRunner membership that includes free two-day shipping and free return shipping on eligible purchases.
How much can you save with the Upromise Mastercard®? As with any other rewards credit card, that depends on how you much you spend and which bills you cover with your card. If you were to spend $2,000 per month on average, for example — including rounded up purchases — you'd earn $345 in annual cash-back rewards towards college, including the 15% bonus.
This is probably the best rewards credit card for college savings since it lets you rack up rewards good for any eligible 529 account — not just accounts with a specific bank.
Fidelity® Rewards Visa Signature® Credit Card
If you invest with Fidelity already or plan to consider them for your 529 account, the Fidelity® Rewards Visa Signature® Card is another savvy option. This card lets you earn 2% cash back on all purchases if you set up your rewards to go directly into an eligible Fidelity investment account, including a 529 plan, a traditional IRA, a Roth IRA, a Rollover IRA, SEP IRA, Health Savings Account, or Fidelity Charitable Giving Account.
You can also choose to earn cash-back outside of a Fidelity account, in which case you'll earn a still generous 1.5% cash back instead. The Fidelity® Rewards Visa Signature® Credit Card doesn't charge an annual fee, and there are no limits to the rewards you can earn.
How much can you earn? If you put $2,000 a month on the card, that amounts to an additional $40 a month, or $480 a year, deposited into your child's 529 account, with scant effort on your part. Assuming a 7% annual return, just that $40 a month could grow to $17,067 over the course of 18 years.
Saving for College with a Cash-Back Credit Card
Also remember that you don't have to choose a college-themed rewards credit card to save money for higher education. You can also opt for a cash-back credit card that lets you redeem rewards for cash, which you can then deposit into a 529 plan or a savings account designated for college expenses.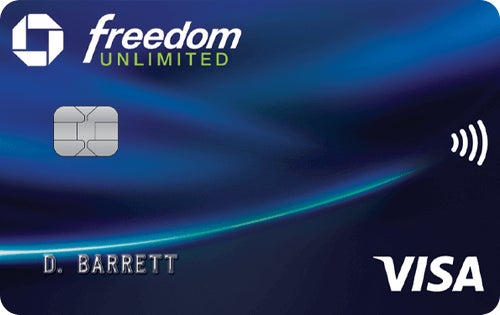 Learn more
If you choose this option, make sure you pick a cash-back credit card that allows you to redeem for cash-back and not just statement credits, gift cards, or merchandise. Some of the best cash-back options that let you redeem for straight-up cash back include the Chase Freedom® card, of which offers 5% back on $1,500 spent in categories that rotate each quarter (when you activate) and 1% back on all other purchases. This card also comes without an annual fee.
The Chase Freedom Unlimited® is another smart option for college since you can earn an additional 1.5% cash back on everything you buy (on up to $20,000 spent in the first year) – worth up to $300 cash back! Finally, the Bank of America® Cash Rewards credit card lets you earn cash-back with tiered earnings: 1% back on every purchase, 2% back at grocery stores and wholesale clubs, and 3% back at gas stations on a combined $2,500 spent at grocery stores, wholesale clubs, and gas stations each quarter.
How to Earn Cash Back for College
With any of the card options above, the strategy to earn cash-back for college is simple. Use your card for all your regular expenses then pay your bill in full each month to avoid interest payments.
Since the average credit card APR is now over 17 percent, you do not want to pay a balance on your credit card while pursuing cash back for higher education. Doing so would be a lost cause, and it would actually cost you money in the long run.
In addition to the cash-back you can earn, you can also hatch a plan to save some money for college on your own. If you can set aside $50 or $100 (or more) each month in addition to the cash-back contributions you rack up, you will save considerably more money for school over time. When you set up a 529 account and accumulate your funds there, your money will also grow tax-free all along then be eligible for tax-free distributions to eligible college expenses like tuition and fees, textbooks, and room and board.
Too long, didn't read?
Saving for college seems overwhelming when you're first starting out, but it helps if you get started sooner rather than later. Earning more money with a cash-back credit card for college can help as well, but you should make sure you're disciplined enough to avoid credit card interest and debt before you go this route.
If you do think you have what it takes to earn rewards for college without overspending or harming yourself financially, several card options can make saving for college a much easier feat. Make sure to see how the different cards stack up, then sign up for the one that fits with your spending style and college savings goals.
Please Note: Information about the Chase Freedom® have been collected independently by TheSimpleDollar.com. The issuer did not provide the details, nor is it responsible for their accuracy.
Editorial Note: Compensation does not influence our recommendations. However, we may earn a commission on sales from the companies featured in this post. To view our disclosures, click here. Opinions expressed here are the author's alone, and have not been reviewed, approved or otherwise endorsed by our advertisers. Reasonable efforts are made to present accurate info, however all information is presented without warranty. Consult our advertiser's page for terms & conditions.