Advertiser Disclosure
We are an independent, advertising-supported comparison service. Our goal is to help you make smarter financial decisions by providing you with interactive tools and financial calculators, publishing original and objective content, by enabling you to conduct research and compare information for free – so that you can make financial decisions with confidence. The offers that appear on this site are from companies from which TheSimpleDollar.com receives compensation. This compensation may impact how and where products appear on this site including, for example, the order in which they appear. The Simple Dollar does not include all card/financial services companies or all card/financial services offers available in the marketplace. The Simple Dollar has partnerships with issuers including, but not limited to, Capital One, Chase & Discover. View our full advertiser disclosure to learn more.
Best Credit Cards for Rental Car Insurance for 2021
Are you aware of all of the benefits of your credit cards? While most people just use their cards to make purchases, others seek out cards with the most valuable rewards such as points, miles, and cash back. But buried in the fine print you receive with your credit card could be one of its most valuable benefits — free rental car insurance. This benefit can replace the overpriced insurance car rental companies aggressively sell. When a rental car company charges you $15 a day for its coverage, that's the equivalent of paying $5,475 a year, often just to insure a compact car.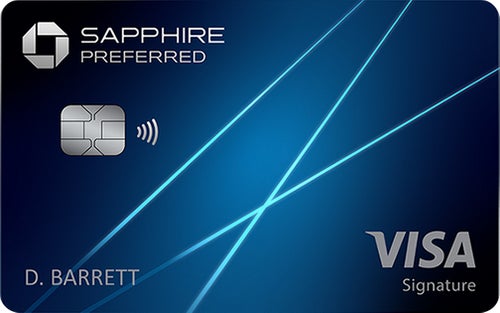 Learn more
at bankrate.com's secure website
But not every card's rental car insurance offers the same coverage and benefits, and some can include restrictions that could leave you uncovered if you're not cautious. It's important to read the fine print and make a careful decision, so you can make sure you're covered. Our favorite rewards credit card, the Chase Sapphire Preferred® Card, offers rental car insurance with primary coverage and numerous ways to earn while you travel.
The Platinum Card® from American Express
This premium rewards card is ideal for frequent travelers who want all the travel benefits that a credit card can offer. Its insurance is valid when you use your card to pay for your rental, or when you redeem reward points for a domestic reservation made through its Membership Rewards program, so long as you decline any optional insurance offered by the rental car company.
Unfortunately, this coverage is secondary, and it does have some significant exclusions. For example, rentals in Australia, Ireland, Israel, Italy, Jamaica, and New Zealand are never covered. In addition, several types of vehicles are excluded including pickup trucks, full-size vans, and sport utility vehicles, as well as sports cars such as the Chevrolet Corvette.
However, American Express offers cardmembers an optional premium rental car insurance plan that addresses many of these issues and is also quite affordable. If you opt into this policy, you receive up to $100,000 of primary coverage against damage or theft that's not subject to a deductible. It also covers rentals of many additional types of vehicles including luxury vehicles, full-size vans, SUVs, and pickup trucks. You can quickly enroll in the premium rental car insurance program online or over the phone, and once you do so, you will be automatically covered on all the rentals you charge to your card.
The best part of this option is that it only costs $19.95 for $75,000 of coverage or $24.95 for $100,000 of coverage ($15.95 / $17.95 for California residents; $12.25 / $15.25 for Florida residents), and it's just charged once per rental, not per day. This is the coverage I use when traveling in the developing world, or when I'm lucky enough to get a car like a Corvette. Nevertheless, the same countries that are excluded from the standard policy are also excluded from this optional premium insurance, so it will be of no use on your next trip to Italy.
Among the numerous travel perks and benefits offered by this card, you'll receive elite status with Avis, National, and Hertz car rentals, which will provide you with faster service, additional rewards, and vehicle upgrades. For example, National's Executive status allows you to reserve a midsize car and choose from any vehicle in its Emerald Aisle selection, while Hertz offers four additional hours at the end of your rental when you use your Platinum card. Other compelling cardholder benefits include airport lounge access, up to a $200 annual statement credit toward airline fees, and a $100 credit toward the Global Entry application fee, which offers members expedited entry into the United States and access to the TSA PreCheck program. There's a $550 annual fee for this card, and no foreign transaction fees.
Chase Sapphire Preferred® Card
This popular travel rewards card is perfect for those who want to earn travel rewards, but don't necessarily need all the benefits of an expensive premium rewards card. Furthermore, it has many advantages when it comes time to rent a car. Its coverage is primary and it covers you anywhere in the world that you rent a car — as there are no excluded countries. It also has a relatively large list of covered vehicle types that still covers pickups, SUVs, and select luxury cars.
In addition, this card offers a great rewards program that earns you double points for car rentals and all other travel purchases including airfare, hotels, and cruises. Points are earned in Chase's Ultimate Rewards® program and can be redeemed for gift cards, merchandise, cash back, and travel reservations. Or, your rewards can be transferred to airline miles or hotel points with seven different airlines and four different hotel programs. There's a $95 annual fee for this card, and no foreign transaction fees.
Choosing a credit card with the best rental car insurance
When you look for a credit card that you will use to rent cars, there are several features that you need to consider. First, does the card offer primary or secondary coverage? Primary coverage is far superior to secondary as it's always better if you don't have to file a claim with your personal automobile insurance. If you file a claim with your personal insurance, you may be subject to a higher premium next time you renew.
Next, take a look at the territorial restrictions of the coverage, as many policies exclude cars rented at popular tourist destinations such as Italy, Ireland, Israel, Jamaica, and New Zealand. I've never been able to figure out why these particular countries tend to get excluded, even though you'll have no problem receiving coverage in other countries that are far riskier.
You'll also want to look at what kind of cars are excluded and the limits of the coverage. While all coverage will exclude some antique and exotic cars that you rarely see offered as rentals anyway, some will exclude common luxury cars and even pickup trucks, which are frequently available from major car rental companies.
Finally, you'll need to examine the other rates, fees, and benefits of your card. For example, those who rent cars outside of the United States will want to avoid the 3% foreign transaction fee that many cards impose. Additionally, some credit cards even offer elite status with rental car companies as a benefit.
How a credit card's rental car insurance works
It's fantastic that most credit cards offer some sort of rental car insurance, but the details of this coverage can be difficult to find and hard to understand.
Here are some basic facts that apply to all credit cards with car rental insurance:
To use a credit card's rental car insurance, you must pay for the rental using your card (coupons are OK). And while most credit cards' rental car insurance policies aren't valid when you redeem points or miles for your rental, some cards, such as The Platinum Card® from American Express, offer insurance on rentals paid for with its rewards program.
The coverage offered by credit cards will have many restrictions, which can include the types of vehicles covered, the countries where you can rent a vehicle, the duration of the rental, and the types of losses covered. Therefore, it makes sense to look through the details of your credit card's policy before renting.
Coverage may be primary or secondary. Secondary coverage requires you to file a claim with your personal insurance, if any, before you receive any benefit.
The credit card's insurance is always void when you violate any term of the rental car agreement, such as commercial use, driving on unpaved roads, or allowing an unauthorized person to drive.
Too long, didn't read?
Renting a vehicle is a wonderful convenience, but you always have to think about your liability in the event it gets damaged or stolen. By understanding how a credit card's rental car insurance works, and choosing the right credit card to pay for your rental, you can have peace of mind when you take to the road on your next vacation.
Best Credit Cards for Rental Car Insurance for 2020: Summed up
Editorial Note: Compensation does not influence our recommendations. However, we may earn a commission on sales from the companies featured in this post. To view our disclosures, click here. Opinions expressed here are the author's alone, and have not been reviewed, approved or otherwise endorsed by our advertisers. Reasonable efforts are made to present accurate info, however all information is presented without warranty. Consult our advertiser's page for terms & conditions.
For rates and fees of The Platinum Card® from American Express, please click here

Please Note: Information about The Platinum Card® from American Express has been collected independently by TheSimpleDollar.com. The issuer did not provide the details, nor is it responsible for their accuracy.
The SimpleScore is a proprietary scoring metric we use to objectively compare products and services at The Simple Dollar.
For every review, our editorial team:
Identifies five measurable aspects to compare across each brand
Determines the rating criteria for each aspect score
Averages the five aspect scores to produce a single SimpleScore
Here's a breakdown of the five aspect scores and their rating criteria for our review of the best money market accounts of 2020.
Why do some brands have different SimpleScores on different pages?
To ensure the SimpleScore is as helpful and accurate as possible, we developed unique criteria for every category we compare at The Simple Dollar. Since most brands offer a variety of financial solutions, their products and services will score differently depending on what we're scoring on a given page.
However, it's also possible for the same product from the same brand to have multiple SimpleScores. For example, if we look at CD products for Ally, it scores a 4.6 out of 5 for our CD SimpleScore metrics. However, when we apply the metrics we measure for money market account SimpleScores, Ally scores a 4.4 out of 5. These two different financial products have two separate SimpleScore metric ratings to account for differences between them. We adjust our ratings based on industry standards for each category.
Have questions about our methodology?
Email Hayley Armstrong at hayley@thesimpledollar.com.
Minimum deposit
We compared the required minimum deposit to open a money market account. The lower the minimum deposit, the higher the score.
APY
MMA holders want great returns on their investments. That's why we awarded brands with higher APYs.
Perks
Customers should be able to leverage their accounts, which is why we awarded brands that offer perks like ATM withdrawals, check-writing abilities, mobile check deposit and waived monthly fees.
Monthly fee
It's annoying to pay to use your account. That's why we awarded brands that have low or no monthly fees.