Advertiser Disclosure
We are an independent, advertising-supported comparison service. Our goal is to help you make smarter financial decisions by providing you with interactive tools and financial calculators, publishing original and objective content, by enabling you to conduct research and compare information for free – so that you can make financial decisions with confidence. The offers that appear on this site are from companies from which TheSimpleDollar.com receives compensation. This compensation may impact how and where products appear on this site including, for example, the order in which they appear. The Simple Dollar does not include all card/financial services companies or all card/financial services offers available in the marketplace. The Simple Dollar has partnerships with issuers including, but not limited to, Capital One, Chase & Discover. View our full advertiser disclosure to learn more.
Five Ways to Earn Frequent Flyer Miles Without Flying
Think you need to fly to earn airline miles? Think again.
There are myriad ways to earn airline miles that don't even require a trip to the airport – and you don't need to have experience flying to get on board, either.
Earning Flights Without Flying: Does It Make Sense?
Here's something else to consider: Earning airline miles by flying isn't all that lucrative anyway – at least, not for the typical consumer. For people who fly only a few times per year, earning enough miles for a free flight would take so long – or cost so much – it would barely be worth it.
To see what I mean, take a look at the Southwest Rapid Rewards program (while keeping in mind that all airlines award airline miles to consumers differently).
Southwest's cheapest fares, Wanna Get Away Fares, offer six miles per dollar spent – and a little more if you pay for your flight with the co-branded Southwest credit card.
But let's say you didn't. If a typical flight on Southwest costs 25,000 Rapid Rewards points, you'd have to spend nearly $4,200 on flights before you earned enough miles for a free one.
Meanwhile, you can typically earn enough miles for a Southwest flight with one signup bonus from the Southwest Rapid Rewards® Premier Credit Card.
Which strategy sounds better? Spending $4,200 on flights or signing up for a single co-branded credit card? More on that in a minute.
Five Ways to Earn Frequent Flyer Miles Without Flying
The truth is, there are a slew of ways to earn airline miles that don't require spending money on airfare or jumping through a lot of hoops. Here are a few of the best (and easiest) ways to earn miles without leaving town:
Sign up for a co-branded airline credit card.
By signing up for a co-branded airline credit card and meeting a minimum spending requirement, you can usually earn enough miles for at least one free flight.
However, it isn't wise to jump on this bandwagon blindly. Before you get a new airline credit card, you should ask yourself a few questions right away, including: Which airlines operate in my area? And will I be able to meet the minimum spending requirement without buying anything out of the ordinary?
A little due diligence goes a long way when you're choosing an airline credit card. Remember, you want a card that offers miles you can actually use – and you want to avoid harming your financial health in the process.
Consider a flexible rewards credit card.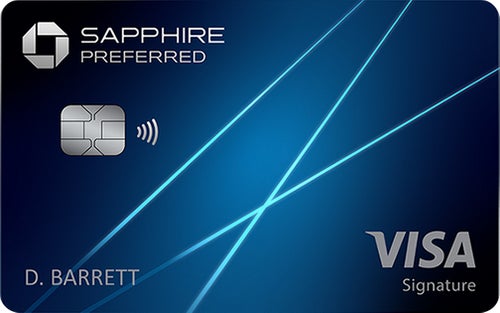 Learn more
at bankrate.com's secure website
If you're having trouble committing to an airline, some flexible cards offer points you can transfer to a slew of airline partners on a whim.
My personal favorite is the Chase Ultimate Rewards® program. With this program, points earned with the Chase Sapphire Preferred® Card and other Ultimate Rewards® cards transfer at a 1:1 ratio to frequent flyer programs including United Airlines, British Airways, Korean Air, and even Southwest.
Brad Barrett of TravelMiles101.com says he is a fan of Citi ThankYou points for this very reason.
"I prefer these points to normal airline miles because of their ability to transfer to multiple airlines instead of being stuck in just one program with little flexibility," he says. "For instance, Citi ThankYou points can transfer to become Singapore Airlines, Air France/KLM Flying Blue or Qantas miles (among many others), so you can fly on all three of the major airline alliances just by having these ThankYou points."
If you're unsure which airline you want to go with, picking a flexible rewards card is one way to keep your options open.
Use your card for everyday spending.
Once you earn a big sign-up bonus, don't stop there. To maximize your miles, you should use your credit card as much as you can for ordinary purchases. Since many airline cards offer at least one mile for each dollar you spend, using your card for everyday purchases is an easy way to build your balances without doing anything out of the ordinary.
Airline credit cards are especially good for big purchases, says Stefanie O'Connell of The Broke and Beautiful Life. "It's absolutely worth checking for ways to make big payments by credit card," she says. "Rent? Mortgage? College tuition? Think of all the miles! Just be wary of any additional processing fees if you pay by credit card. Read the fine print."
Grayson Bell of DebtRoundUp.com uses his card for one of his family's biggest expenses: daycare.
"I stack all of our daycare payments onto one card that gets me double miles for every dollar," he says. "It gets me 24,000 miles a year with no effort."
Take advantage of online shopping portals.
Most big airlines offer shopping portals that allow you to earn additional miles just for clicking though. The Southwest Rapid Rewards shopping portal, for example, offers anywhere from 1 to 10 miles per dollar spent on any purchases you make through the portal.
Special "bonus offers" also appear in these portals from time to time. As of this writing, you can earn 3,600 miles for switching your cable over to AT&T Uverse. Deals like this come and go, of course, but it's smart to know where to look.
Earn miles on hotel stays and rental cars.
Just as most airlines offer shopping portals, the vast majority offer rental car partnerships, too. Most of the time, you can earn anywhere from a few hundreds to a few thousands airline miles just by renting your car – or booking a hotel stay – through their website.
Further, sites like PointsHound.com and Rocketmiles.com let you rack up airline miles on hotel stays. For our recent trip to Italy, I booked a hotel stay in Florence on Rocketmiles and earned 7,000 Southwest Rapid Rewards miles for our stay due to a special promotion.
If you plan to book a hotel stay on your next trip, it can pay off to price-shop on these portals in addition to your usual travel booking websites and scour them for deals.
Too long, didn't read?
With some careful planning and a little forethought, most people can earn airline miles without ever being in an airplane. However, it's crucial to read the fine print before jumping on board with any new offers or signing up for a new credit card. As always, what you don't know can hurt you.
What's your favorite way to earn airline miles? How many miles do you earn in an average year?
Editorial Note: Compensation does not influence our recommendations. However, we may earn a commission on sales from the companies featured in this post. To view our disclosures, click here. Opinions expressed here are the author's alone, and have not been reviewed, approved or otherwise endorsed by our advertisers. Reasonable efforts are made to present accurate info, however all information is presented without warranty. Consult our advertiser's page for terms & conditions.