Advertiser Disclosure
We are an independent, advertising-supported comparison service. Our goal is to help you make smarter financial decisions by providing you with interactive tools and financial calculators, publishing original and objective content, by enabling you to conduct research and compare information for free – so that you can make financial decisions with confidence. The offers that appear on this site are from companies from which TheSimpleDollar.com receives compensation. This compensation may impact how and where products appear on this site including, for example, the order in which they appear. The Simple Dollar does not include all card/financial services companies or all card/financial services offers available in the marketplace. The Simple Dollar has partnerships with issuers including, but not limited to, Capital One, Chase & Discover. View our full advertiser disclosure to learn more.
Seven Reasons the Wealthy Use Credit Cards (Even Though They Don't Have To)
We all know that the rich – and even "Millionaire Next Door" types – handle their money differently. Instead of looking for ways to flaunt their wealth, they actively keep it hidden. And instead of accumulating "stuff," they strive for financial independence and seek out targeted opportunities that help them earn even more money.
And even though wealthy folks don't necessarily need to use credit cards, they still do. A 2015 poll by CreditCards.com noted that, out of 800 wealthy families surveyed, three out of five used rewards cards with a preference for cash-back. Meanwhile, households with investable assets of $100,000 or more were twice as likely to say they prefer frequent flyer miles over cash.
That brings us to the first reason the wealthy use credit cards, even when they don't need a temporary loan. They do it for the rewards. Since many cards offer 1% to 2% cash back for every purchase you make, it's not too hard to rack up meaningful rewards if you spend a lot on your cards. And if you're savvy with airline miles, you can easily save thousands of dollars on airfare every year.
But the thirst for rewards extends far beyond affluent soccer moms pursuing airline miles for a family trip to Hawaii, as even the ultra-rich love their rewards points. Maybe you read about the billionaire who used his American Express credit card to buy a $170 million-dollar painting in 2015. Why would he do such a thing? His wife told the New York Post he planned to use his miles to fly his family around the world for free.
Other Reasons the Wealthy Use Credit Cards
While credit card rewards are the most obvious reason the wealthy use credit cards for purchases even when they can pay their balance in full, there are plenty of other perks that make using credit worth it regardless of income or ability to pay. Here are some of the top reasons the wealthy still use credit cards:
They love free travel insurance.
While you can buy your own travel insurance plan, many of the top travel credit cards offer different forms of travel insurance for free. Take the Chase Sapphire Preferred® Card, for example. This card offers primary auto rental coverage, baggage delay insurance, trip delay reimbursement, lost luggage reimbursement, emergency assistance, and travel accident insurance, and other benefits.
Their trip cancellation/interruption insurance is another popular perk. This insurance covers the cardholder and their immediate family members for up to $10,000 per covered trip and $20,000 per occurrence with a maximum benefit of $40,000 every 12 months.
For the trip to be covered, you have to use your card to pay for it. But the insurance will kick in to reimburse you if your trip is cancelled or interrupted for any reason, such as severe weather, accidental bodily injury, or financial insolvency of your tour operator or airline.
While the rich could easily buy a travel insurance policy that provides these benefits, why not get it for free if you can? Not only can they earn rewards for using their card to pay for their trip, but they get tens of thousands of dollars in travel coverage without paying for it.
They get used to the perks.
Some of the top travel credit cards offer travel perks that make traversing the globe a lot more comfortable. The Platinum Card® from American Express is a good example of a card that attracts the rich. Not only does it offer some pretty epic rewards with its Membership Rewards loyalty program, but it offers access to the Global Lounge Collection. This collection of airport lounges includes over 1,000 proprietary lounge locations around the world.
Cardholders also get complimentary benefits with Fine Hotels & Resorts, a luxury travel brand, along with up to a $200 airline credit for checked bags and in-flight purchases. Last but not least, cardholders get a credit to cover the costs of applying for Global Entry or TSA Precheck – airport programs that let you skip lines and get expedited security when you fly.
Basically everyone loves skipping lines at the airport, so we shouldn't be surprised that the wealthy gobble up this perk in droves.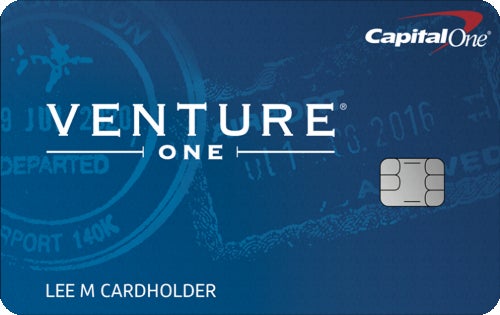 Apply now
at Capital One's secure website
You can score some pretty important consumer protections.
In addition to the fancy travel perks everyone loves, credit cards do offer some meaningful consumer protections you can you benefit from if you play your cards right. Let's say you have a Citi rewards card that comes with the Citi Price Rewind program. If you use your card to buy a $5,000 refrigerator and the price goes down within 60 days, Citi Price Rewind will refund you the difference. So, if the refrigerator goes on sale for $4,000 a month after you buy, you'll get a $1,000 refund.
Some rewards cards also offer guaranteed returns – as in, your card will refund your money and let you return an item even if a store won't. Extended warranties are another big perk the rich and everyone else loves. Extended warranty coverage through Chase, for example, extends the U.S. manufacturer's warranty on qualified items for an additional year provided the initial warranty was three years or less. The coverage is good for $10,000 per claim and up to $50,000 per year — which is hardly pocket change, even for the very wealthy.
Certain cards offer access to special events.
Beyond the glamour of airport lounge access and Global Entry and the utility of credit card perks like extended warranties, you'll find even more reasons the wealthy and those who think like them love their credit cards. For starters, an array of top travel credit cards offer cardholders access to special events that range from concerts to sold-out sporting events.
Citi Private Pass is a program created for Citi Cardmembers. If you qualify, you can get access to presale concert tickets, special promotions, and VIP events such as preferred seating for the Martha Graham Dancy Company in New York.
It's all about convenience and safety.
For many people, using a credit card is simply the most convenient thing to do. And if you're not watching every penny you spend, why not charge all your purchases and pay one bill at the end of the month? Using credit card be a lot easier than say, using your debit card for every purchase and going through the trouble of balancing your checkbook and deducting each purchase from your balance.
In addition to ease of use, there's research that shows using credit cards can be safer, too – especially when it comes to online purchases. That's because the majority of credit cards offer zero fraud liability, and federal law limits your liability to just $50 for unauthorized charges made with your credit card anyway.
But, if you use a debit card, you could be on the hook for up to $500 in fraudulent purchases if you don't report the fraud within two business days. And if you don't notice the fraud for 60 calendar days after your statement is sent to you, you could be liable for all fraudulent purchases plus any money the thief is able to extract from your bank account.
The wealthy love a good concierge.
Last but not least, many of the top travel credit cards offer concierge service that can help you do, well, just about anything.
Say you have The Platinum Card® from American Express. You can either call the 1-800 number of email their travel concierge to get helps with all sorts of things. For example, you could:
Have the Amex concierge order flowers for anyone using a local florist, then place the charges on your Amex credit card.
Ask the concierge to help you secure hard-to-get dining reservations at the world's most popular restaurants.
Ask for help getting concert tickets to a show the day they go on sale.
These are just a few examples of ways you can use your credit card's concierge, but the sky is the limit. And in the absence of your own personal butler or assistant, a helpful credit card concierge service may be the next best thing.
Too long, didn't read?
While credit cards were created as a quick and easy way to borrow money, the perks they offer makes them attractive to people from all income levels. So, even if you have the cash to pay for whatever you like upfront, it's often worth it to charge purchases to a credit card to score important consumer perks or earn rewards.
At the end of the day, most of us are out to get what we can – especially if it's free. And that's why credit cards remain attractive to people from all income levels. If you can pay your balance in full every month and avoid interest, you can truly get "something for nothing."
Do you use credit cards for the perks and other benefits? Why or why not?
Please Note: Information about The Platinum Card® from American Express has been collected independently by TheSimpleDollar.com. The issuer did not provide the details, nor is it responsible for their accuracy.
Editorial Note: Compensation does not influence our recommendations. However, we may earn a commission on sales from the companies featured in this post. To view our disclosures, click here. Opinions expressed here are the author's alone, and have not been reviewed, approved or otherwise endorsed by our advertisers. Reasonable efforts are made to present accurate info, however all information is presented without warranty. Consult our advertiser's page for terms & conditions.