Advertiser Disclosure
We are an independent, advertising-supported comparison service. Our goal is to help you make smarter financial decisions by providing you with interactive tools and financial calculators, publishing original and objective content, by enabling you to conduct research and compare information for free – so that you can make financial decisions with confidence. The offers that appear on this site are from companies from which TheSimpleDollar.com receives compensation. This compensation may impact how and where products appear on this site including, for example, the order in which they appear. The Simple Dollar does not include all card/financial services companies or all card/financial services offers available in the marketplace. The Simple Dollar has partnerships with issuers including, but not limited to, Capital One, Chase & Discover. View our full advertiser disclosure to learn more.
The Best Finance Podcasts of 2021
Delivering personal finance solutions and advice since 2006, The Simple Dollar is back with our annual awards for 2021. Here are our top picks for the best finance podcasts for the new year.
Best financial trends podcast: "Jake Of All Trades"
Jake Rivas doesn't call himself a financial Jack-of-all-trades, but he does call himself a Jake-of-all-trades. And in his podcast, "Jake Of All Trades," Rivas tackles every issue that people could face financially. Whether it be about inflation, politics, the pandemic or MLMs and Ponzi schemes, Rivas covers it all.
Staying ahead of the curve isn't easy, especially with all the trends that we face from our feeds. Rivas boils and breaks them down to easy-to-understand episodes about traditional retirement trends, inflation and smartphone day trading. Rivas also brings on guests for open-ended discussions about trending topics and reactions to other podcast episodes. That's like listening to two different podcasts at one time, but this one has financial lessons and topics.
Best financial podcast for stock reviews: "Chit Chat Money"
When the subreddit r/wallstreetbets advice just doesn't cut it anymore (and it shouldn't), you can get a serious audio data download of all the information you need to know about individual stocks with "Chit Chat Money." Hosted by Brett Schafer and Ryan Henderson, the two dive in deep on popular stocks, current stock trends and riff about the future of top investments.
If you're past the beginner investment level and trying to look deeper into trends and the best stocks, "Chit Chat Money" can't be more recommended. Even if you're just trying to make a smart buy on your favorite investment app, you can get the trends and latest stock info from this prolific podcast.
Best financial podcast for millennials: "Millennial Money Podcast"
The term "broke millennial" might be a little played out at this point, but Shannah Compton Game knows that the struggle is real.
Through her podcast, "Millennial Money," she walks through the mistakes she already made when she was younger and how she overcame her own financial struggles. Now, millennials can tune in to episodes about managing money as a freelancer, financial topics to talk about with your partner and, of course, budgeting. So if you want to learn how to avoid money mistakes from someone who has already made them, then this is the podcast for you.
Best real-life financial advice podcast: "Financially Naked"
Financial Gym, a service that pairs coaches with customers who need to revamp their finances, created "Financially Naked." Each episode is hosted by a different B.F.F. (Best Financial Friend) from Financial Gym, who injects a weekly dose of personal finance stories, tips and money insights.
"Financially Naked" runs the gamut of personal finance topics: student loans, personal loans (including an interview with Best Egg's chief marketing officer), saving during the pandemic and understanding net worth. As you can guess, the personal stories on this podcast are real in that actual clients of Financial Gym are frequent guests on the show to discuss their personal finance like how they paid off student loan debt, saved money or made money with the company's service.
Best financial podcast for business owners: "Business Credit and Financing Show"
Making money isn't just about your side hustle, and Ty Crandall of "Business Credit and Financing Show" knows it. If you're a business owner and want to know more about financing, growing and developing your company, then this podcast has it. Other than picking the brains of guests like Jason Carr, creator of video game LaunchBox, Crandall covers the nuts and bolts like bad credit business loans, building business credit and business loans for veterans.
Entrepreneurs — no matter how savvy you are — can find a nugget or two of solid-gold wisdom about the money side of running a company on "Business Credit and Financing Show."
Best real-world financial stories podcast: "This Is Uncomfortable"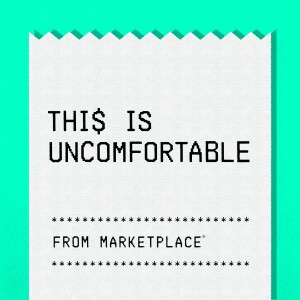 In a podcast about "life and how money messes with it," Reema Khrais uncovers the personal stories of people dealing with student loan debt, being a single working mother during the pandemic and financial infidelity on "This Is Uncomfortable."
One of the best things about this podcast isn't the production value — although it's so well done that it's easy to listen to — but the constant stream of real-world guests and their, erm, uncomfortable financial situations. It won't be hard to find an episode or two in which you relate to the guest's money-related problems. Be warned, as the title of the podcast suggests, some of these situations are uncomfortable. But it's worth it just to know that whatever you're going through with your wallet, someone else is probably going through it too.
Best financial podcast for money management: "Wealth, Taxes, and Finances"
Managing your money is more than just picking the right savings account, so "Wealth, Taxes, and Finances" host John Cindia dives deep on all things related to — you guessed it — wealth, taxes and finances. Despite the focus on tax-planning and retirement, you won't miss out on the basics with some money-saving and frugality-related episodes sprinkled throughout the repertoire. So if you're past the budget-building and penny-pinching, listen to "Wealth, Taxes, and Finance" to grab some important tips on long-term planning and wealth management.
Best financial podcast for investors: "Four Minute Finance"
As the name suggests, "Four Minute Finance" delves into the world of investments and stock markets in just four minutes. Although host John Tounger takes the complex concepts of investing and breaks them down into short, digestible episodes, he doesn't skimp out on the details. And it's not just stocks — Tounger tackles the impact of politics on the market as well as economy updates and new IPOs. "Four Minute Finance" is perfect for all levels of self-directed investors, especially investors who want insight on current trends, the future of crypto and upcoming stock splits.
Best goal-setting financial podcast: "Journey to Launch"
Certified Financial Education Instructor Jamila Souffrant shares her journey of savings and investing $169,000 with her husband on her blog-turned-podcast "Journey to Launch." Centered on financial independence and setting achievable financial goals, Souffrant has episodes dedicated to in-depth topics like banking with credit unions and transitioning from corporate America to being your own entrepreneur.
This podcast is like having your own personal finance coach in your ear on your daily walk — if you need someone to keep you motivated in your financial journey, become a Journeyer (aka, a listener of the show) with "Journey to Launch."
Best financial podcast for learning what you didn't in school: "What The Finance"
Have you ever come across a personal finance topic and thought "WTF? I didn't learn that in high school." Well, co-hosts Taylor Price and Tedia Rosarion teach listeners what they need to know about the basics in "What The Finance." Playfully referred to as "WTF," this podcast was born from the trends of learning personal finance on platforms like TikTok in lieu of in-classroom lessons. And it's literally the basics you wish you learned in school: alternatives to student loans, how to start investing and spending on a budget.
"What The Finance" is the personal finance equivalent of looking up how to change a car tire or do a load of laundry on YouTube. It's a straight-forward podcast about the absolute, bare-bone financial lessons everyone should've learned in school.
Methodology
To determine the winners of the second annual The Simple Dollar Awards, our editorial team researched every major brand and option in every category and ranked them based on the following traits:
Affordability – We looked for the most cost-effective solutions on the market. That doesn't always translate into the absolute cheapest, but takes into consideration how much bang you're getting for your buck.
Trustworthiness – We compared customer satisfaction scores wherever we could find them, including Trustpilot.
Innovation – We prioritized products and services with one-of-a-kind features that separated them from the field.
For more details on The Simple Dollar Awards, contact Ivey O'Neal at ivey@thesimpledollar.com.